Utah auto insurance
Beehive State drivers trust Progressive for customized and affordable car insurance in Utah while cruising the state's deserts and cities. Learn more about Utah auto insurance requirements, coverage options, and available discounts through Progressive.
3 min to read
What are the minimum requirements for auto insurance in Utah?
All drivers who reside in the Beehive State are required to have liability coverage limits of at least:
$25,000 in bodily injury per person
$65,000 in total bodily injury per accident
$15,000 in property damage per accident
Keep in mind that you can always increase your auto liability coverage limits to better protect your assets.
Utah also requires personal injury protection (PIP) with a $3,000 minimum. PIP can cover medical expenses, as well as lost wages and death benefits, even if you're at fault in an accident.
Get vehicle protection with comprehensive and collision coverage
If you lease or finance a car, most lenders will require you to carry comprehensive and collision coverage. But even if your car is paid off, theses coverages may still be worth adding in the event your vehicle is damaged or stolen in a covered incident.
Save a bundle when you bundle! New customers nationally who switch and save with Progressive save an average of over 20% when they combine their home and auto policies. *
What will car insurance in Utah cost?
The average car insurance cost in Utah is about average compared with the rest of the country. Rates can also vary based on your driving history, ZIP code, coverage selections, and other factors.
Do you offer any discounts that can drive down my car insurance cost?
Progressive can help you secure cheaper auto insurance in Utah with discounts such as:
Multi-policy
Five-year accident-free
Non-drinker
Paid in full
Multi-car
Homeowner
Online signature
Online quote
Want to save money while protecting your most valuable assets? You can earn a discount when you bundle your auto and home insurance in Utah. Progressive also offers renters and RV insurance for Utah residents—bundling two (or more) of any of these policies can help you save.
Pro tip:
The safer you drive, the more you'll save. Snapshot® from Progressive personalizes your rate based on your driving habits. Learn more about Snapshot.
Fast facts about driving and insurance in Utah
Utah lowered the blood alcohol limit for drivers from .08 to .05 percent. This state now has the strictest blood alcohol limit in the nation. A DUI violation could result in your car insurance rate increasing.

Driving without auto insurance in Utah can be costly. The fine is $400 for your first offense and increases to $1,000 for your second offense.

Utah is a no-fault state, which means drivers are required to carry coverage that can pay for their own injuries resulting from an auto accident, regardless of fault. Learn more about no-fault insurance.
How to get car insurance in Utah
Go online
Customize your policy's coverages, limits, and deductibles.
Quote auto insurance
Call us
Talk to a licensed representative who will guide you through every step of the process.
Call 1-866-749-7436
Ask an agent
Get expert advice from an independent agent near you.
Find an agent in Utah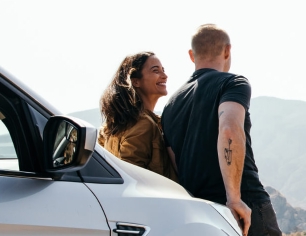 Quote car insurance online or give us a call