What is a cruiser motorcycle?
Born in the 1970s, cruising motorcycles, or "cruisers" as they're more often known, are like standard motorcycles but have a lower seat height and a more relaxed riding position with the legs forward. Cruisers commonly have signature customizations like ape hangers. Most major brands have at least one cruiser model, and the brands most associated with the style can have ten or more varieties of cruiser motorcycle.
4 min to read
What are the different types of cruiser motorcycles?
Choppers and bobbers
Choppers are highly modified bikes — or scratch-built customs — built by chopping existing bikes to create a personalized, aesthetic-driven motorcycle. Another common subtype of cruiser that results from customization is the bobber, in which a production bike has bodywork or other non-functional parts removed to reduce weight and increase the power-to-weight ratio.
Power cruisers
Cruiser motorcycles built for higher performance than standard cruisers are often called power cruisers and feature more powerful engines, powerful brakes, and higher ground clearance to allow for a sportier experience despite the relaxed riding position.
What are the pros and cons of cruiser motorcycles?
Cruisers are a popular motorcycle market segment that appeals to many rider types but may not be right for all circumstances.
Cruiser motorcycle pros
Wide variety: Cruisers are available in different sizes, styles, power combinations, and at every budget level.

Customizable: Cruiser motorcycles have a custom shop subculture built around them, making them one of the best options for motorcycle customization.

Stylish: In addition to the aesthetic customization common on cruisers, their relaxed riding position makes it easy to achieve a cool, carefree look while you hit the road.
Small travel suspension: Lower ride height on cruiser motorcycles means less room for suspension travel.

Feels heavy to riders: The relaxed riding position gives you less leverage when handling the bike, making cruisers feel heavier than they are.

Lack of maneuverability: Cruisers can be comfortable in traffic and fare well on the highway but usually don't offer as much control as other types of motorcycles.
Should I buy a cruiser motorcycle?
You can find a cruiser motorcycle on nearly any budget, so start by figuring out if a cruiser is right for your lifestyle and how you want to ride. If you plan on doing most of your riding on leisure trips or commuting on larger roads, or if the idea of creating a unique, customized bike appeals to you, a cruiser might be perfect for you. If you're just starting out, look for a cruiser with a smaller engine and lighter weight: they are among the best motorcycles for new riders to easily manage. If you plan on doing lots of long-distance driving, want a thrilling experience of leaning into turns, or want a small, nimble ride in congested urban environments, a cruiser may not be the best choice.
If possible, try test riding the motorcycle before you buy, and if you need further testing, consider renting a motorcycle like the cruising motorcycle model you want for a day or two.
What insurance do I need for cruising motorcycles?
Most states will require you to have motorcycle liability insurance to legally ride on the road. Learn more about cruiser motorcycle insurance and our available motorcycle insurance coverages for your cruiser.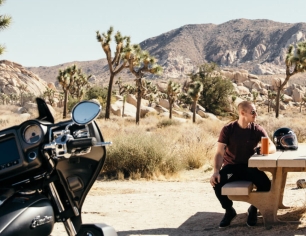 Enjoy life on two wheels with motorcycle insurance from Progressive