BMW car insurance
Find out how insurance works for BMW, one of the nation's top-selling luxury car brands. We'll cover the types of coverage you might need for your BMW, how to get the best price, and more.
3 min to read
How much does car insurance for a BMW cost?
Car insurance rates for BMWs depend on factors like your specific model, how you plan to use your BMW, where you park it overnight, your driving record, and more. BMWs are known as a premium car make. Since they may be more expensive to repair or replace, your BMW car insurance may cost more than insurance for, say, a Honda or Nissan car of the same size.
Find out more about the factors that affect car insurance rates. And for an estimate of how much your particular BMW's car insurance will cost, get a car insurance quote today.
Pro tip:
Your BMW's characteristics can affect your rate differently based on the coverages you select. For instance, the cost to repair or replace your car may affect your rate more if you carry comprehensive and collision coverages, since those cover damages to your vehicle.
How can I lower my BMW car insurance rate?
You may be able to get a cheaper car insurance rate for your BMW by shopping around for auto insurance. Something as simple as quoting online* or setting up auto-pay could get you a discount.† Check out our car insurance discounts to find out all the ways you can save on a policy with Progressive.
Learn more about how to lower your car insurance rate.
What type of car insurance do you need for your BMW?
You'll need at least the minimum required car insurance for your state, which likely includes liability insurance. Your state might also require the following coverages:
What is "full coverage" car insurance for a BMW?
"Full coverage car insurance" isn't technically an insurance product, but dealers and lenders might use the term to mean all your state-required coverages plus comprehensive and collision. Comprehensive and collision provide coverage for damages your BMW may sustain in an accident or an event that's outside your control. These coverages are typically required by a lender if you have a loan or lease on the car.
Learn more about the types of car insurance coverage.
What are the most popular BMW models?
The 4 Series was BMW's top-selling 2022 passenger car for North America, while the X5 was its top-selling light truck/SUV.
BMW models include:
SUVs and crossovers: X1, X3 through X7, iX, XM
Sedans: 2-8 Series, i4, i7
Several of the models come in an M version — BMW's racing level. The BMW iX, i4, and i7 are all-electric vehicles — learn about insurance for electric cars. And the X5 xDrive45e, 330e, 530e, and XM are plug-in hybrids.
Some of BMW's 2022 mid-size luxury cars and SUVs and a large luxury car qualified as IIHS-HLDI's Top Safety Picks. Consider one of these top-rated options if you're buying a new car or shopping for a used car.
Fast facts about BMWs
Due to the manufacturer's thorough new-car warranty, Consumer Reports notes that BMWs can be some of the least expensive cars to maintain and repair at five years old. But they're some of the most expensive at 10 years old.

Is it bimmer, beemer, or beamer? BMW says "bimmer" is the correct term for a BMW car, while "beemer" and "beamer" refer to a BMW motorcycle.

BMW was founded in 1916, and its logo dates to 1917. In its earliest years, the company manufactured aircraft engines, which remained a main product until World War II.
How to get a car insurance quote for your BMW
Go online
We ask easy questions, and you customize your coverages.
Get a car insurance quote
Call a rep
Talk with a licensed representative who can guide you through the process.
Call 1-866-749-7436
Through an agent
Connect with an independent agent in your area.
Find an agent online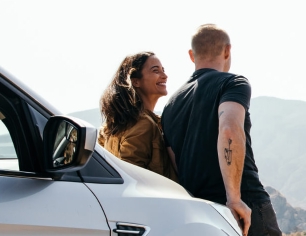 Quote car insurance online or give us a call