Honda car insurance
Find out how car insurance works if you have a Honda, one of the top-selling and top-rated car manufacturers for American buyers. You'll learn how much insurance might cost for your Honda and which types of coverage to consider.
4 min to read
How much does car insurance for a Honda cost?
The cost for insuring a Honda will ultimately depend on information unique to you, like the Honda model you have, how you plan to use the vehicle, your location, your driving record, and more. For example, if you have a car that costs less to repair or replace than other vehicles, your car insurance rate may be lower.
When considering only the MSRP as listed in this Edmunds' comparison, your Honda may be less expensive to insure than higher value cars like BMWs. But a Honda might be more expensive to insure than lower value models of the same class like Nissans.
Remember, car value is only one rating factor — learn more about the factors that affect car insurance rates. And for an estimate of how much car insurance will cost for your particular Honda, get a car insurance quote today.
Pro tip:
Your car's characteristics can affect your rate differently based on the coverages you have. For example, the value of your car affects your rate more if you carry comprehensive and collision coverages, since those cover damages to your vehicle.
How can I lower my Honda car insurance rate?
You may be able to get cheaper auto insurance for your Honda by shopping around for car insurance. Something as simple as quoting online* or setting up auto-pay could give you a lower rate.† Check out Progressive's car insurance discounts to find out all the ways you can save with us.
Learn more about how to lower your car insurance rate.
What type of car insurance do you need for your Honda?
Regardless of the type of car you drive, you'll need at least the minimum car insurance coverage required by your state, which likely includes liability insurance. Depending on your state, you may also be required to get:
You may want to add comprehensive and collision for damages your Honda may sustain in an accident or an event that's outside your control. While not required by the state, these coverages are typically required by the lender if you have a loan or lease on the car.
Learn more about the types of car insurance coverage.
What are the most popular Honda car models?
According to this 2022 news release, the Civic is not only Honda's best-selling car but also the best-selling small car in America over the last 50 years. The 2022 Honda Civic even won the North American Car of the Year. The Civic comes in several variations, including a sedan, a hatchback, and manual options like the Si and Type R.
Honda models include:
SUVs and crossovers: HR-V, CR-V, Pilot, Passport
Sedans: Civic, Accord
Minivan: Odyssey
Truck: Ridgeline
Honda offers hybrid car options for the CR-V and Accord. The Accord Hybrid 2018-2020 had one of the lowest claim frequencies according to our article on the cheapest cars to insure, potentially leading to a lower insurance rate. And some of Honda's 2022 sedans, SUVs, and their minivan qualified as IIHS-HLDI's Top Safety Picks. Consider one of these top-rated options if you're buying a new car or shopping for a used car.
Fast facts about Honda cars
Honda didn't get its start making cars — it was first a manufacturer of engine-powered bicycles in Japan in 1946.

In 1981, Honda released the world's first car navigation system, which displayed the car's current map location on a screen attached to the dashboard.

Founder Soichiro Honda had a love for car racing — he built Japan's first full-scale road-racing circuit and paved the way for Honda's long history of wins in the F1 racing division.
How to get a car insurance quote for your Honda
Go online
We ask easy questions, and you customize your coverages.
Get a car insurance quote
Call a rep
Talk with a licensed representative who can guide you through the process.
Call 1-866-749-7436
Through an agent
Connect with an independent agent in your area.
Find an agent online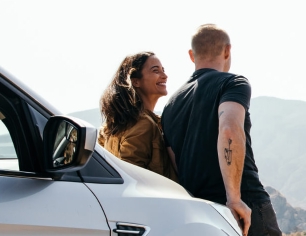 Quote car insurance online or give us a call