How to get the most for your trade-in
When you're looking to get the most out of trading in your car, make sure your car is in the best shape possible, even if that means spending a little to fix it up. Then do some research on your car's trade-in value so you can negotiate effectively and decide.
3 min to read
What's the best way to trade in a car?
Trading in your car traditionally meant taking it into the dealership and negotiating with your car salesperson to reduce the price of your new car. It's possible to do all of this online now, though, which can help open up your buying options and maximize your car's trade-in value. Progressive Car Shopping Services provided by TrueCar makes it easy to get an estimate and receive offers from certified dealers in your area. See how trading in your car online works.
Should I trade or sell my car?
Trading in your car can be a fairly easy and convenient way to get some cash that goes toward your new vehicle. But trading in your car at the dealer will likely get you less money than selling it on your own.
On the other hand, while selling a car privately is typically more profitable than trading it in to a dealer, it takes more time and effort. You have to figure out how to get it in front of buyers, field calls, arrange meet-ups, allow for test drives, and ultimately negotiate and complete the transaction.
What's my car's trade-in value?
You can use a reputable car valuation tool to get an early idea of what your car may be worth on the market. Remember, your trade-in is a negotiation, and a dealer may start with a low offer. Getting more than your car's estimated trade-in value is usually a long shot, especially when you're going through a dealer. Check out these car buying resources for more insight.
Did you just get a new car or are you planning to buy one soon? Get an auto insurance quote online to customize coverages for your needs.
Should I detail my car before I trade it in?
Your car's trade-in value will be based on its condition, including aesthetics. The work you're willing to do on it beforehand can increase the value of your trade-in. At a minimum, you'll want to clean the vehicle inside and out — even mechanical parts like the engine. Getting your car detailed, especially if there are dents or dings, can help your trade-in look even more attractive to a dealer.
Tips for trading in a car
You're almost ready to take your vehicle to the dealer. Use these car trade-in tips to prepare:
Address any mechanical issues. Your definition of maintenance may not be the same as your dealer's. Professionals can easily spot problems that chip away at your trade-in value. If you've been skipping tune-ups or driving with minor defects, visit a mechanic before taking the car to the dealer.

Gather your documents. To streamline the trade-in process and increase your bargaining power, be prepared with all the necessary paperwork. This includes your vehicle's registration, any reputable and competitive quotes or estimates you've received, your loan standing if applicable, and maintenance receipts.

Know your numbers. Trading in your car is a significant financial decision with many moving parts, including the costs that go into getting it ready, the price you get for the vehicle, the cost of your new car, your current and future monthly payments, financing options, special promotions, and more. Don't be afraid to break out a calculator and take time to compare offers so you can get the most for your trade-in.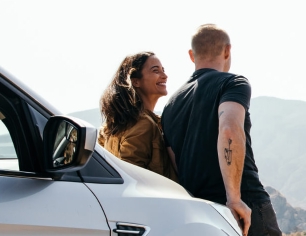 Quote car insurance online or give us a call