Can you trade in a car for a lease?
Yes, you can trade in a new, used, or financed car and put the amount from the sale toward a lease on another vehicle. Trading in a leased car for a new vehicle lease may also be possible, but if you still have several months left on your lease, opting to trade it in could end up costing you.
3 min to read
How does trading in a car for a lease work?
Trading in a car for a lease on a new vehicle works similarly to other trade-ins. You'll negotiate a trade-in value based on your research and the dealer's offer. Then your lease will be set up with the trade-in value subtracted from your initial deposit or future lease payments. Get some car trade-in tips to help you get the most out of this transaction.
What happens when you trade in a leased car?
Leasing a car means you're paying to use a vehicle for a set amount of time, usually two to four years, rather than buying it. Once your lease ends, you might be able to buy the vehicle for a set price or sign a new lease on another vehicle at the dealership. The leasing company may charge lease-end fees when you return the vehicle.
If your lease isn't up and you want to trade it in now, you'll likely be required to buy out the lease (essentially, purchase the car outright) before you can trade it in. Buying out the lease may result in you paying a significant amount more than the car's trade-in value, so do the math before you buy out your lease intending to trade it in:
Find out the vehicle's depreciated value
Inquire about any fees for terminating your lease early
Ask what it would cost for you to buy out the lease
Get an estimate for its trade-in value
There could be restrictions on selling the leased car to a third party, especially if the vehicle's current value is significantly higher than the cost for you to buy out the lease.
Pro tip:
Before talking to a dealer, research the depreciated value of your vehicle and the cost of the new one you want to lease. A trade-in and a new lease are negotiable transactions. Therefore, analyzing car values ahead of time can help you get a reasonable price for the trade-in and advantageous lease terms.
Can I trade in a financed car for a lease?
A dealer may allow you to trade in a financed car for a lease, but you'll still be responsible for the amount you owe on your current car's loan. Due to depreciation, you may owe more on your vehicle than its trade-in value. A dealer might work this difference into your new lease payments, or you may need to continue paying your current car's loan payments and your new lease payments. Use this monthly car payment calculator and learn more about trading in a car with a loan.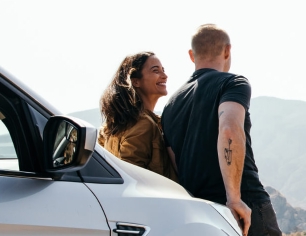 Quote car insurance online or give us a call