Can I trade in my car for a used car?
Yes, you can trade in your used car for another used car. If you're looking for a new vehicle, it doesn't have to be newly manufactured. It can be new to you. In many cases, trading in for a used vehicle costs less than trading in for a brand-new vehicle. However, you should consider the value of your vehicle, how much equity you have, and the offers you get before trading in your car.
3 min to read
How to trade in your car for a used car
The first step in trading in a car is to determine the value of your vehicle. You can research your vehicle's value through a third party, such as Kelley Blue Book (KBB®), which will give you a rough estimate of your car's worth.
You can then get offers from local dealerships or car shopping services, especially those that have the vehicle you want in stock. The amount you're offered for your trade-in will depend on several factors, such as how many vehicles the dealership or company already has in stock and your vehicle's condition. With dealerships, you can typically negotiate their offer before making a decision. Learn more about what to look for when buying a used car and car insurance for a used car.
The dealer might offer you a "blind trade" value — a basic market price for most cars of that make and model. This price may decrease after they receive pictures or if there is extensive damage to your car. You may also qualify for a slightly higher trade-in value if a special promotion is happening.
You can usually receive more value for your car if you sell it yourself, but this process may be time-consuming. People generally opt for trade-ins because it saves time in the long run.
After you trade in your vehicle, the dealership will typically offer you a flat payment for the car or ask if you'd like to apply it toward the purchase of a new car. If you're looking to purchase a new car for yourself, this is the ideal opportunity. This is where positive and negative equity come into play.
Pro tip:
Learn to negotiate at dealerships to get a better trade-in value on your vehicle.
Understanding positive and negative equity
The value of your trade-in plays a big role in the out-of-pocket price for your new car. If you still owe money on your trade-in and its value is less than you owe, you will have negative equity. In other words, you will lose money on the trade because you will need to pay out of pocket to cover the difference in value. On the other hand, if your trade-in is worth more than what you still owe, you will have positive equity which you can put toward the purchase of your new car.
In most cases, a newer vehicle will have more value than an older model car. If you prefer older-style vehicles, but you're driving a more modern one, you could make a trade and spend little to nothing out of pocket — depending on how much equity you have in your current car. If you're trading in an older vehicle for a newer one, then you might have to spend a bit more out of pocket.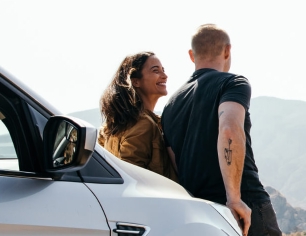 Quote car insurance online or give us a call