Can you trade in a car you just bought?
No length of time restricts you from trading in a newly purchased vehicle. However, trading in a new vehicle may be a waste of money. The depreciation that occurs as soon as you leave the dealership means your trade will have less value than a new vehicle. If you do trade it in, you will need to pay the difference on the trade, as well as for the new car.
4 min to read
How long do you have to wait to trade in a car you just bought?
In theory, you can purchase a car at one dealership, drive it straight to another, and trade it in right away. However, doing so is likely a waste of money. A car loses some of its value when you drive it off the lot, and its status immediately changes from "new" to "used." In addition, if you financed the car, trading it in doesn't make the loan go away. Learn more tips to trading in a car.
If you trade in your brand-new car that is financed, the dealership will give you an amount they feel is appropriate based on the vehicle's make and model and its condition. Because the dealership will also want to profit from the vehicle, it's unlikely that you will receive an amount equivalent to what you paid. You will need to pay the difference between the value of the vehicle and the loan amount. Learn more about buying or selling with a car with a lien.
Although you don't have to wait to trade in a new car, it's often a good idea to at least wait a year. Cars depreciate quickly for the first five years, but the most rapid depreciation occurs within the first year of ownership –vehicles can lose up to 20 percent of their original value. Use our car depreciation calculator to estimate how much your vehicle could decrease in value each year.
What if I just bought a car and want to trade it in?
There are no federal laws that say dealers must allow returns of vehicles. If you buy a new car and find that it isn't the right fit for you, your only option may be to trade it in. However, if the car doesn't work properly, you may be covered by state lemon laws.
A lemon law allows for reimbursement if the vehicle has mechanical faults that make it unsafe to drive. However, these laws vary from state to state, and regulations are different depending on where you live. Keep in mind that lemon laws don't apply if you simply don't like the vehicle.
Take advantage of test driving a vehicle to ensure you like a car before you purchase it. Some dealerships even offer overnight test drives. Take the time to research the make and model and learn about others' experiences and what maintenance and costs look like further down the line. Buying a car is a major commitment and it pays to know what you're getting before you sign the paperwork. Learn more about how to buy, sell, or trade in all one place with Progressive's car shopping services by TrueCar.
Although some dealerships offer a special trial period, this isn't a requirement. If your dealership offers this, review the paperwork to guarantee you understand the terms and conditions.
Pro tip:
Take advantage of test drives and other exploratory features to familiarize yourself with a vehicle before you buy it.
Understand positive equity
In most cases, a new purchase will lose value as soon as you drive it off the lot. However, the car might still be worth more than the remaining loan balance. If you find the monthly payments are too much for you to handle, or you have other reasons for trading in the vehicle, it could be worth more than you owe.
These extra funds can be applied toward the purchase of another vehicle. This is called positive equity. For example, if the vehicle is worth $10,000, and you only owe $7,000, you would have a positive equity amount of $3,000 that can go toward purchasing a new car.
Should I wait before trading in a new car?
Although you don't have to wait to trade in a new car, it's a good idea to bide your time until you have some positive equity. If you owe more than the car is worth at the time of trading, you will end up paying that extra amount out of pocket. The remainder of your loan might be applied to a new loan, or it might be deducted from the vehicle's trade-in value.
It's better to trade in a new car when you no longer owe anything on it. If that's not possible, wait until you can at least break even on the trade.
How to insure your new with Progressive after a trade in
Go online
We ask easy questions, and you customize your coverages.
Get a car insurance quote
Call a rep
Talk with a licensed representative who can guide you through the process.
Call 1-866-749-7436
Through an agent
Connect with an independent agent in your area.
Find an agent online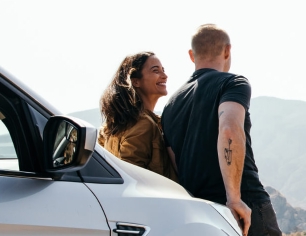 Quote car insurance online or give us a call