What are Virginia motorcycle insurance requirements?
Virginia law requires all motorcyclists to carry insurance. You'll need to meet specified minimums before enjoying the Back of the Dragon or any of the other great rides Virginia offers. Learn what coverages you're required to have, optional coverages you should consider, and what you can do to lower your Virginia motorcycle insurance rate.
6 min to read
How does Virginia motorcycle insurance work?
As a Virginia motorcyclist, you must carry Bodily Injury/Property Damage liability coverage that helps pay for damages or injuries you may cause to others. This coverage does not pay for any damages you sustain, no matter the cause. The required minimum coverage is:
$25,000 in bodily injury per person
$50,000 in total bodily injury per accident
$20,000 in property damage per accident
Virginia also requires you to carry Uninsured/Underinsured Bodily Injury coverage (UM/UIM BI). This coverage helps pay the difference when another driver injures you or your passenger but doesn't have enough insurance to cover your medical bills. Virginia's minimum UM/UIM coverage is $25,000 per person and $50,000 per accident. With liability and UM/UIM insurance, you can choose to have limits higher than those mandated by law. Having higher limits means better protection for you if something happens.
Learn more about uninsured motorist coverage for motorcycles.
If you have other insurance policies with us, you can bundle and save. Motorcycle customers save an average of 7% when they bundle multiple Progressive policies. Get a motorcycle insurance quote today.
What's included in a Progressive motorcycle insurance policy in Virginia?
Progressive is as committed to protecting your motorcycle as you are. Our policies with physical damage coverage always restore your bike to its condition before the accident. We cover parts at full replacement cost — not at their depreciated value — and we always use the same parts. That means we'll repair with OEM parts if your bike uses original equipment manufacturer parts, and we'll use custom parts if your bike has them.
We also protect upgrades, customizations, and add-ons with our accessories coverage. Policies with collision or comprehensive coverage automatically include $3,000 of protection for accessories. You can increase it by as much as $30,000 to ensure your ride is protected no matter how much you've modified it.
Comprehensive and collision coverage
Though not required by law in Virginia, comprehensive and collision coverages are usually required by lenders. If you own your bike outright, you may still want these coverages for their added protection. Comprehensive coverage protects against damage from forces beyond your control, like fire, vandalism, extreme weather, and wildlife-related incidents. Collision coverage pays for damage to your motorcycle that results from most collisions — whether with another driver or an object like a tree or parked car.
Other motorcycle coverages available in Virginia
In addition to the required and basic coverages listed above, there are many motorcycle insurance coverages to choose from for more protection:
Medical payments can pay for injuries that either you or your passenger sustain, regardless of fault.
Total loss coverage pays the full replacement cost of a new motorcycle without depreciation (minus deductible) in the case of a total loss, if the bike is no more than one model year old on a new policy or two years old on a renewal.
Roadside assistance covers the cost of towing your bike to the nearest mechanic while trip interruption protection can cover costs like hotel or transportation if you're away from home.
Carried contents and personal belongings protects any personal effects you're carrying when a covered loss occurs, including theft.
Enhanced injury protection pays up to $250 a week for as long as two years if you're injured and unable to work due to a covered accident.
See all motorcycle insurance coverages.
How much is motorcycle insurance in Virginia?
Many factors influence the price you pay for insurance, including your location, age, claims history, bike model, and the coverages and limits you choose. Based on Progressive's pricing, Virginia is one of the more expensive states for motorcycle insurance, and premiums tend to be higher than the national average.
Learn more about the average cost of motorcycle insurance in Virginia and how motorcycle insurance costs are calculated.
Where to find cheap motorcycle insurance in Virginia
When shopping for the best motorcycle insurance in Virginia, tailoring your policy's limits and deductibles is a great starting point to manage cost. Progressive's fully customizable policies are one of the reasons we're the most popular motorcycle insurance in the country, protecting almost one-third of insured riders. Once you've found the right policy for you, you can save even more with our many motorcycle insurance discounts, including:
Multi-policy
Motorcycle endorsement
Association member
Safety course discount
Responsible driver
See all motorcycle insurance discounts.
Pro tip:
Virginia has great weather most of the year but not every motorcyclist rides year-round. If you keep your bike in the garage for an extended period, don't cancel your motorcycle insurance. Prices can go up if you cancel a policy and then renew later. And some coverages, like comprehensive, can protect your bike even when it's not in use.
How to get Virginia motorcycle insurance
Online
We'll ask you a few simple questions, then you choose your coverages.
Quote motorcycle insurance
Call a rep
You'll speak with a licensed representative who will guide you through everything.
Call 1-855-347-3939
Through an agent
If you want local advice, we'll connect you with a licensed, independent agent near you.
Find an agent online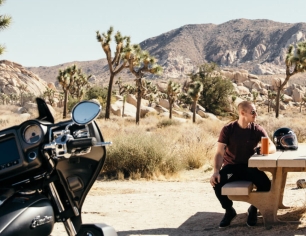 Enjoy life on two wheels with motorcycle insurance from Progressive