West Virginia car insurance
West Virginia's winding country roads are known for their beauty as well as the wildlife that likes to run across them. If you're looking for auto insurance in West Virginia that protects you and your vehicle from the unexpected, we're here to help. Learn more about West Virginia car insurance, including requirements and a few optional coverages that might be right for you.
3 min to read
What are the state requirements for car insurance in West Virginia?
West Virginians must carry the following minimum liability coverage limits:
$25,000 in bodily injury per person
$50,000 in total bodily injury per accident
$25,000 in property damage liability
West Virginia also requires uninsured motorist bodily injury (UM BI) and property damage (UM PD) coverage. With uninsured motorist coverage, you're covered for medical expenses and vehicle damage if you're hit by a driver without insurance. The minimum limits you need for UM BI and UM PD are:
UM BI: $25,000 per person, $50,000 per accident
UM PD: $25,000 with a $300 deductible
Although these are the minimum state requirements for auto insurance in West Virginia, you should consider increasing your limits or adding more coverages for everyday peace of mind. Learn more about auto liability insurance and uninsured motorist coverage.
What other auto coverages should I consider?
If you lease or finance your car, your lender will likely require you to carry collision and comprehensive coverage. But even if you don't have a car payment, insuring your car against physical damage can be a smart choice, especially if your vehicle is a significant investment for you. Learn more about how comprehensive car insurance and auto collision coverage can help protect your vehicle.
Learn more about auto insurance coverages available with Progressive.
Our Name Your Price® Tool puts you in the driver's seat. Tell us what you want to pay, then choose from coverage options in that price range.
How much is car insurance in West Virginia?
According to the Insurance Information Institute, West Virginia ranked in the middle for average auto insurance expenditures in 2019. Your location, driving history, and the limits and coverages you choose can all impact the price of your car insurance.
Learn more about what goes into the cost of car insurance.
Are there car insurance discounts for West Virginia drivers?
Yes. Progressive offers a wide range of discounts to reduce the cost of West Virginia auto insurance, such as:
Three-year safe driving
Online quote
Five-year accident-free
Multi-car
Homeowner
Five-year claim-free
Multi-policy
Paid in full
See all auto insurance discounts.
Pro tip:
Snapshot® personalizes your insurance rate based on your safe driving habits. Choose either the mobile app or a device that plugs into your car to start saving. Learn more about Snapshot.
Interesting facts about driving in West Virginia
West Virginia requires all drivers, front-seat passengers, and back seat passengers under 18 to wear a seat belt. Buckle up and avoid a ticket.
Get a quote for car insurance in West Virginia
Go online
We ask easy questions, and you customize your coverages.
Quote auto insurance
Call a rep
Talk with a licensed representative who can guide you through the process.
Call 1-866-749-7436
Through an agent
Connect with an independent agent in your area.
Find an agent in West Virginia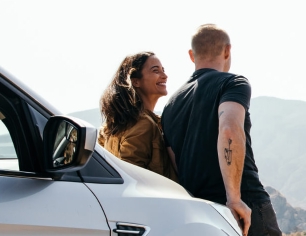 Quote car insurance online or give us a call