Michigan car insurance
From Detroit to the shores of Lake Superior, Progressive has all your car insurance needs covered. We'll help you determine your coverage options for car insurance in Michigan. Discover what you need to know about Michigan car insurance rates and requirements, and potential discounts you can earn with us.
3 min to read
What are Michigan's auto insurance requirements?
Car insurance is required for Michigan drivers. If you live in the car capital of the world, you'll need liability coverage limits of at least:
$50,000 in bodily injury per person
$100,000 in total bodily injury per accident
$10,000 in property damage per accident
What are other required types of car insurance in Michigan?
Michigan also requires you to carry property protection insurance (PPI) with a $1 million limit per accident, as well as personal injury protection (PIP).
Important Note: Michigan's recently updated no-fault law gives Michigan drivers more options for PIP coverage. Learn more about the change.
PPI helps to cover costs if you accidentally damage another person's property in your state with your vehicle. PIP covers your medical costs, as well as lost wages and death benefits, and pays out regardless of who is at fault.
Expanding your Michigan auto insurance coverage beyond the minimum requirements can give you peace of mind that you and your assets are better protected. Learn more about how auto liability insurance works.
Ready to make the switch? Drivers nationwide who switch and save with Progressive save nearly $750 on average.* Get an auto insurance quote today.
Consider comprehensive and collision coverage
Adding comprehensive and collision coverage makes sense for many drivers, especially those who want to avoid paying for repairs or a new vehicle if their current car ever gets damaged. These coverages apply if your car gets stolen or damaged in a collision or other covered mishap. You're typically required to carry these coverages if you lease or finance a vehicle.
What is Michigan's mini-tort law?
If your car is damaged in an accident, Michigan's tort law allows you to recover up to $3,000 from the at-fault driver's insurance company for repairs. With mini-tort Michigan coverage (also known as limited property damage liability), you're covered for this type of claim up to the limits you select on your policy.
See all car insurance coverages.
How much is car insurance in Michigan?
Michigan is generally considered to be one of the most expensive states for car insurance. But car insurance rates vary based on a variety of factors, including your driving history, as well as the limits and coverages you choose.
Are there discounts for cheaper auto insurance in Michigan?
Absolutely. Progressive offers a variety of discounts, giving you plenty of ways to save on car insurance. Here are just a few of the discounts available in Michigan:
Multi-car
Multi-policy
Paid in full
Online quote
Five-year accident-free
Teen driver
Good student
By bundling your home and auto insurance in Michigan, you can better protect your valuable assets — and save money at the same time. Discover more about Michigan home insurance.
Michigan car insurance facts
Michigan has a no-fault car insurance law that requires drivers to report a crash to their own insurance company, regardless of who is at fault. With no-fault insurance, you typically can't sue or be sued except in instances such as death or serious injury.

Michigan ranked second highest for uninsured drivers in 2019, with an estimated 25.5% without insurance coverage. With uninsured motorist coverage, you're protected if the other driver can't pay.
How to get car insurance in Michigan
Online
Answer some easy questions and choose coverages.
Quote auto insurance
Call us
A licensed representative will answer any questions you have.
Call 1-866-749-7436
Ask an agent
Need local advice? We'll connect you with a licensed independent agent near you.
Find an agent in Michigan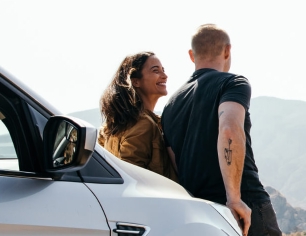 Quote car insurance online or give us a call