Tesla car insurance
While Tesla is set apart as an all-electric car manufacturer, car insurance for a Tesla works much the same as it does for any other car. Find out the car insurance coverages you might need for your Tesla, how to get the best price on your policy, and more.
4 min to read
How much does car insurance for a Tesla cost?
Car insurance rates for Teslas are determined by factors unique to you, like your specific model, how you plan to use your Tesla, where you park it overnight, your driving record, and more. In general, insurance for electric vehicles may cost more due to the higher cost to repair or replace them. With Tesla being a premium electric vehicle manufacturer, insuring one may cost even more than the same coverage for a more affordable option, like an electric Nissan.
But there are plenty of other car insurance rate factors. For example, cars with better safety ratings may be in fewer accidents and qualify for more insurance discounts. And there are electric vehicle tax incentives and gas savings to factor into the overall cost of owning a Tesla — Tesla even says that the cost of ownership per mile over five years is less for a Tesla Model 3 Base than it is for a Toyota Corolla.
Get a car insurance quote today for an estimate that reflects your unique situation.
Pro tip:
Your car's characteristics can affect your rate differently based on the coverages you select. For instance, the cost to repair or replace your Tesla may affect your rate more if you carry comprehensive and collision coverages, since those cover damages to your vehicle.
Tesla Motors was incorporated in 2003 by Martin Eberhard and Marc Tappening as Tesla Motors. The company is named after Nikola Tesla, the inventor of the alternating current and the Tesla coil, which could transmit electricity wirelessly.

Tesla isn't only the leader among electric car manufacturers — as of 2023, it's also the world's largest automaker.

Tesla released its driver assistance technology in 2014. Contrary to popular believe, Teslas aren't considered self-driving cars. As of 2023, Tesla's Autopilot is considered a Level 2 on SAE's driving automation scale that contains Levels 0–5.
How to get a car insurance quote for your Tesla
Go online
We ask easy questions, and you customize your coverages.
Get a car insurance quote
Call a rep
Talk with a licensed representative who can guide you through the process.
Call 1-866-749-7436
Through an agent
Connect with an independent agent in your area.
Find an agent online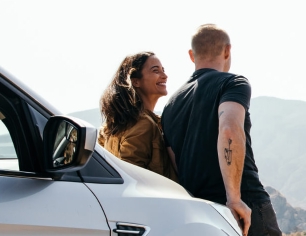 Quote car insurance online or give us a call