Delaware car insurance
Whether you're commuting over the Delaware Memorial Bridge or taking a scenic drive on the Lewes Byway, it's important to know Delaware car insurance laws to make sure you have the coverage you need. Learn more about coverage options, Delaware auto insurance requirements, and extra ways to save on car insurance in The First State.
3 min to read
What are Delaware's car insurance requirements?
Car insurance is mandatory for all drivers. Delaware state minimum auto insurance laws require you to have liability coverage limits of at least:
$25,000 in bodily injury per person
$50,000 in total bodily injury per accident
$10,000 in property damage per accident
Delaware also mandates personal injury protection (PIP) with the following minimum limits:
PIP covers medical costs, plus lost wages and death benefits, and you can receive a payout even if you're at fault.
These are the minimum coverages for Delaware drivers, but there are many other optional car insurance coverages to choose from. You may want to consider choosing higher liability limits for full protection of your assets. Learn more about auto liability insurance.
Consider comprehensive and collision coverage
Most lenders require comprehensive coverage and collision coverage if you're financing or leasing your vehicle. But even if you own your vehicle outright, these coverages may be worth adding. With comprehensive and collision, you're covered for damage to your vehicle if you're hit by another car, a tree limb falls on your car, or if other unexpected scenarios occur.
How much is car insurance in Delaware?
In 2018, Delaware drivers had a higher average expenditure for auto insurance than most other states, according to Insurance Information Institute data. Several factors can impact car insurance cost, including the limits and coverages you choose, your driving history, and your ZIP code.
Are there Delaware auto insurance discounts available through Progressive?
Yes. We offer a variety of discounts to Delaware drivers, including:
Homeowner
At-fault accident-free
Electronic Funds Transfer (EFT)
Three-year safe driving
Electronic signature
Continuous insurance
Online quote
Five-year accident-free
Paperless
Multi-car
See all auto insurance discounts.
Pro tip:
Our Name Your Price® tool tool puts you in the driver's seat. Tell us how much you're able to pay each month, and we'll show you coverage options in that range.
Fast facts about Delaware's roadways:
The Delaware Turnpike is among the country's most expensive toll roads, costing drivers 29 cents per mile. If you travel this roadway regularly, you may want to consider carpooling.
How to get a car insurance quote in Delaware
Go online
Customize your policy's coverages, limits, and deductibles.
Get a car insurance quote
Call us
Talk to a licensed representative who will guide you through every step of the process.
Call 1-866-749-7436
Ask an agent
Get expert advice from an independent agent near you.
Find an agent in Delaware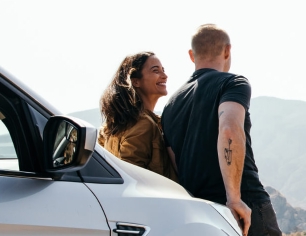 Quote car insurance online or give us a call