What are the Indiana motorcycle insurance requirements?
Anyone riding a motorcycle in Indiana is required by law to carry motorcycle insurance. To even register a motorcycle in Indiana, you must have proof of insurance, and to satisfy the financial responsibility law, you'll need a policy that meets minimum limits for a coverage called Bodily Injury and Property Damage Liability (BI/PD).
6 min to read
How does motorcycle insurance in Indiana work?
In Indiana, motorcycle insurance follows the same rules as other kinds of vehicle insurance and must meet the same burden of financial responsibility. Motorcyclists will need a policy covering damage or injuries they cause others if the motorcyclist is at fault for the accident. Your policy must provide coverage limits that meet or exceed the following minimum amounts:
$25,000 in bodily injury per person
$50,000 in total bodily injury per accident
$25,000 in property damage per accident
You can get policies with much higher coverage limits than these, and many people choose to do so. Having higher limits can raise your premium. However, having higher coverage limits can offer better protection if you have an accident that results in costly damages or injuries – such as if someone you hit ends up in the hospital.
Progressive covers nearly 1 in 3 of all insured motorcyclists on the road. Whether you're a new rider shopping for your first policy or an experienced motorcyclist looking for better rates, get a motorcycle insurance quote and find out why Progressive insures more motorcycles than anyone else.
What's included in a Progressive motorcycle insurance policy in Indiana?
When you purchase a policy that includes physical damage coverage, we commit to keeping your bike in the condition it's in at the time of the accident. If your motorcycle has parts from the original equipment manufacturer, we'll use OEM parts for any repairs. If you've got custom parts, we'll use custom parts, too. All parts are covered for their total replacement value – not their depreciated value – so you'll get your bike back just like it was before the accident (or better!).
We bring the same commitment to any modifications or upgrades. Accessories coverage can pay for damages to customizations, accessories, and extras. It's included automatically with collision and comprehensive, starting at $3,000. If you need more, you can increase that limit to as much as $30,000 – now or in the future as you upgrade your ride.
Comprehensive and collision coverage
You only need liability coverage to meet the Indiana motorcycle insurance requirements, but many riders choose to add more coverages to protect themselves against bad luck or bad drivers. Comprehensive coverage pays for damage from unpredictable forces and events like natural disasters, vandalism, collisions with wildlife, and more. Collision coverage covers damages from all other collision-related damage (except wildlife). It can pay to repair your bike even if you're at fault for the accident and even if no other vehicles were involved, such as if you hit a tree or retaining wall.
Although not required by law, many lenders require you to carry comprehensive and collision for the loan duration. If your bike isn't paid off yet, check the loan terms before you decide against comprehensive and collision.
Uninsured and underinsured motorist
Another common coverage is Uninsured/Underinsured Motorist coverage (UM/UIM), which can protect you when another motorist causes an accident but doesn't have enough insurance to cover the injuries they caused. UM/UIM can pay for the difference, up to your coverage limits. This is a popular coverage with motorcyclists because injuries and medical bills from a motorcycle crash can easily exceed the state's minimum coverage requirements.
Learn more about uninsured motorist coverage for motorcycles.
Other motorcycle coverages available in Indiana
You can get even more out of your motorcycle policy with the following optional motorcycle insurance coverages:
Medical payments coverage can pay for injuries you or your passenger sustain, regardless of who caused the accident.
Total loss coverage covers the entire value of new bikes in the event of a total loss. Motorcycles no more than one model-year-old on a new policy (two years on a renewal) can be replaced at the cost of a brand-new bike if they're totaled.
Roadside assistance covers the cost of towing your bike to the nearest mechanic. It can be further expanded with trip interruption protection to cover expenses like hotel or transportation if you're away from home.
Carried contents and personal belongings coverage is designed to protect any personal effects you're carrying when a covered loss occurs, including theft.
Enhanced injury protection pays up to $250 a week for up to two years if you're injured and unable to work due to a covered accident.
Learn more about motorcycle insurance coverages.
How much is motorcycle insurance in Indiana?
Insurance prices vary according to factors, including your age, your location, your riding habits, the bike you have, and the coverages, limits, and other details of the policy you choose. Motorcycle insurance in Indianapolis, for example, is likely to have different costs than the same coverage in Bloomington or Gary. The price you pay will depend on the details of your situation, but based on Progressive's pricing, Indiana is a medium-cost state for motorcycle insurance, and premiums are similar to the national average.
Learn more about how motorcycle insurance rates are calculated.
Where to find cheap motorcycle insurance in Indiana
The best motorcycle insurance in Indiana is subjective, but the right policy for you balances good protection at a rate you can afford. Our customizable policies make it easier to find the right combination of coverages, limits, and deductibles without breaking the bank. And once you've got a policy you like, you can save even more with a variety of motorcycle insurance discounts such as:
Multi-policy
Pay in full
Motorcycle endorsement
Association member
Responsible driver
Learn more about available motorcycle insurance discounts.
Pro tip:
Midwestern winters can be brutal, and most motorcyclists in Indiana don't ride year-round. If you take a break for the winter, we advise against canceling your policy while your bike is garaged. There are many reasons for that, not least of which is that prices can go up if you cancel and later buy a new policy. Learn more about off-season motorcycle insurance coverage.
How to get motorcycle insurance in Indiana
Online
We'll ask you a few simple questions, then you choose your coverages.
Quote motorcycle insurance
Call a rep
You'll speak with a licensed representative who will guide you through everything.
Call 1-866-749-7436
Through an agent
If you want local advice, we'll connect you with a licensed, independent agent near you.
Find an agent in Virginia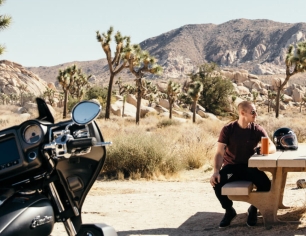 Enjoy life on two wheels with motorcycle insurance from Progressive