New Jersey car insurance
When looking into car insurance quotes in New Jersey, let Progressive put you on the road to protection and savings. Learn more about New Jersey auto insurance requirements and available discounts, so you can choose the coverages that fit your needs and your budget.
3 min to read
What are New Jersey's auto insurance requirements?
Residents of the Garden State are required to have car insurance. Standard policy holders specifically are required to carry liability coverage limits of at least:
$15,000 in bodily injury per person
$30,000 in total bodily injury per accident
$5,000 in property damage per accident
Consider increasing your car insurance coverage beyond New Jersey's auto insurance requirements to fully protect your assets and your family. Discover more about auto liability insurance.
New Jersey also requires personal injury protection (PIP), uninsured/underinsured motorist coverage for bodily injury (UM/UIM BI), and uninsured/underinsured motorist property damage (UM/UIM PD) for a standard policy with the following minimum limits:
PIP: $15,000 minimum
UM/UIM BI: $15,000 per person, $30,000 per accident
UM/UIM PD: $5,000 with a $500 deductible
PIP covers your medical costs, as well as lost wages and death benefits, and pays out even if you're at fault. UM/UIM BI pays for medical expenses for you and your passengers if you're hit by a driver with little or no insurance. UM/UIM PD covers damage caused to your vehicle from an uninsured or underinsured driver.
As with liability coverage, it may be necessary to choose higher limits for these coverages to better protect your financial well-being.
Ready to make the switch? Drivers nationwide who switch and save with Progressive save nearly $750 on average.* Get an auto insurance quote today.
Adding comprehensive and collision coverage gives you added protection
If you're leasing or financing a vehicle, most lenders will require you to carry comprehensive coverage and collision coverage. It also makes sense to add physical damage coverages if you're not sure you could afford a new car or to pay for major repairs. These coverages pay to repair or replace your car if it's in an accident, gets stolen, or is otherwise damaged as a result of a covered accident.
How much is car insurance in NJ?
Auto insurance rates tend to run higher in New Jersey compared to other states, according to average expenditure data gathered by the NAIC in 2018. However, rates vary based on many factors like where you live, your driving history, and the limits and coverages you choose. Learn more about the factors behind the cost of car insurance.
Can I get discounts with my New Jersey car insurance?
Yes, New Jersey drivers are eligible for many car insurance discounts. Progressive offers a range of money-saving discounts, including:
Multi-car
Online quote
Paid in full
Active anti-theft device
Five-year accident-free
Teen driver
Good student
See all auto insurance discounts.
Pro tip:
Save when you bundle! One way to get cheap car insurance in New Jersey is to combine your auto and home policies with Progressive — new customers who save bundling home and auto insurance save over 20% on average.*
Facts and figures about driving in New Jersey:
How to get car insurance in New Jersey
Go online
We ask easy questions, and you customize your coverages.
Quote auto insurance
Call a rep
Talk with a licensed representative who can guide you through the process.
Call 1-866-749-7436
Through an agent
Connect with an independent agent in your area.
Find an agent in New Jersey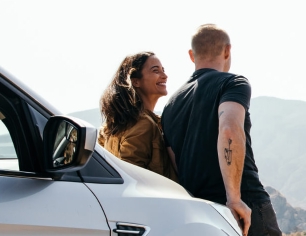 Quote car insurance online or give us a call