Motorcycle insurance in Colorado
Motorcycle insurance is required by law in Colorado. Before you can legally ride, you need to show proof of liability coverage that may pay for damage or injuries you cause to others in a motorcycle accident. Learn about coverages in the Centennial State and how to save on motorcycle insurance in Colorado.
3 min to read
How does motorcycle insurance in Colorado work?
Colorado mandates liability coverage on your motorcycle insurance policy of at least:
$25,000 in bodily injury per person
$50,000 in total bodily injury per accident
$15,000 in property damage per accident
Finding the right motorcycle policy is faster than ever. Get a quick and personalized motorcycle insurance quote and find out why Progressive is the country's #1 insurer for motorcycles.
Optional coverages available for Colorado motorcycle riders
Comprehensive coverage pays to replace or repair your bike if its damaged from an event outside of your control, such as fire, theft, vandalism, and collisions involving wildlife Collision coverage pays to repair or replace your bike if the damage is from an accident involving another vehicle, or an object such as a fence or guardrail. Medical payments coverage may pay for injuries sustained by you or your passenger.
Uninsured motorist coverage protects you in the event you're hit by a driver who has too little or no insurance and they cause you injuries. Learn more about uninsured motorist coverage for motorcycles.
Other motorcycle coverages available in Colorado
Total loss coverage covers the entire value of new bikes in the event of a total loss. Motorcycles no more than one model year old on a new policy (or two years on a renewal) can be replaced at the cost of a brand-new bike if they're totaled.
Roadside assistance can pay for a tow to the nearest mechanic and can be expanded by purchasing Trip Interruption coverage to cover incidental costs like hotel or transportation if you're away from home when the accident happens.
Carried contents offers coverage for personal effects or other belongings you carry on your bike if they're lost, damaged, or stolen as a result of a covered claim to your motorcycle.
Enhanced injury protection protects you from long-term consequences of a crash with as much as $250 a week for two years if you're unable to work as a result of injuries sustained during a crash.
Learn more about motorcycle insurance coverages.
How much is motorcycle insurance in Colorado?
Motorcycle insurers take many factors into account when calculating your motorcycle insurance rate, including your age, riding history, coverage limits, and location.
How to get cheap motorcycle insurance in Colorado
Progressive's customized policies are at the right price, thanks to our many discounts, such as:
Multi-policy
Responsible driver
Safety course
Switch and save
Pay in full
See all motorcycle insurance discounts.
How to get motorcycle insurance in Colorado
Online
We'll ask you a few simple questions, then you choose your coverages.
Quote motorcycle insurance
Call a rep
You'll speak with a licensed representative who will guide you through everything.
Call 1-866-749-7436
Through an agent
If you want local advice, we'll connect you with a licensed, independent agent near you.
Find an agent in Virginia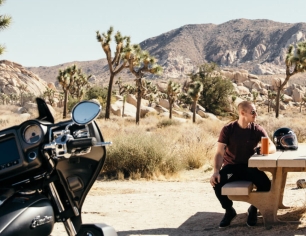 Enjoy life on two wheels with motorcycle insurance from Progressive