What are South Carolina motorcycle insurance requirements?
South Carolina requires all motorcyclists to carry insurance that meets certain minimum coverage limits. At the bare minimum, you'll need both liability coverage that pays for damage you cause others and uninsured motorist coverage, which protects you from uninsured drivers.
6 min to read
How does South Carolina motorcycle insurance work?
In South Carolina, motorcycle insurance is treated the same way as other kinds of motor vehicle insurance. You'll need to meet the same minimum coverage limits for your bike as you would for a car. The first kind of coverage, liability, covers both bodily injury and property damage you cause – it's often abbreviated as "BI/PD." The minimum coverage limits required by law are:
$25,000 in bodily injury per person
$50,000 in total bodily injury per accident
$25,000 in property damage per accident
South Carolina also requires you to carry uninsured motorist coverage. There's another related kind of protection called uninsured/underinsured motorist coverage. Uninsured motorist coverage protects you if a driver who has no insurance causes your accident. Underinsured motorist coverage can cover the difference (up to your policy limits) when a motorist's insurance isn't sufficient to cover the damage or injury they caused you. In South Carolina, insurers are required by law to offer this coverage, but you aren't obligated by law to buy it.
You're required to have protection for both bodily injury and property damage that meets similar minimum coverages to the required liability coverages:
UMBI: $25,000 per person, $50,000 per accident
UMPD: $25,000 with a $200 deductible
You can always purchase more than these minimum coverage limits. Higher limits often result in higher monthly premiums, but many motorcyclists choose higher limits anyway for the increased protection. Learn more about uninsured motorist coverage for motorcycles.
Progressive is the country's #1 motorcycle insurer! We protect nearly one-third of all insured motorcyclists on the road today. Get a motorcycle insurance quote today and find out why so many riders choose Progressive.
What's included in Progressive motorcycle insurance in South Carolina?
When we repair your bike after an accident, we want to make sure everything's just like it was before. That's why our physical damage coverage pays for replacement parts at their full value – no depreciation included – so your bike will be in its pre-accident condition or better. We also promise to use the same kind of parts that you had before the accident. Bikes with gear from the original equipment manufacturer are always repaired with OEM parts.
Our commitment to restoring your bike to its pre-accident condition also extends to any upgrades or modifications you've made. Our accessories coverage is automatically included with comprehensive and collision and pays for customizations or equipment you've added. It starts at $3,000 but can be increased to as much as $30,000 of protection to restore even the most unique bikes.
Comprehensive and collision coverage
South Carolina doesn't require comprehensive and collision coverages, but many riders choose to add them. These optional coverages are popular because they protect your bike from many common kinds of damage. Comprehensive coverage covers damage from forces beyond your control like theft, vandalism, natural disasters, and collisions with wildlife. Collision coverage covers you in most kinds of collisions, no matter who was at fault. It can protect you even if there's no other driver involved – for instance hitting a tree or road sign – as long as the damage is the result of a collision.
If you own your bike outright, the choice about collision and comprehensive coverages is totally up to you. If you're still paying for the motorcycle, though, you should check the terms of your loan agreement. These coverages may not be legally required in South Carolina, but many lenders require them until the loan is paid off.
Other motorcycle coverages available in South Carolina
There are lots of other ways to expand the protection your policy offers. Other optional motorcycle insurance coverages include:
Medical payments covers the cost of medical bills for both you and your passenger if you're injured while riding. Motorcycle customers might want this coverage because motorcycle injuries are often severe and paying for them out of pocket can be costly.
Total loss coverage is available for bikes no more than one model year old on a new policy or two model years on renewal. It can pay for the entire value of your bike in the event of a total loss, protecting it against depreciation.
Roadside assistance can pay for a tow to the nearest mechanic. You can expand this coverage with trip interruption protection to cover incidental costs like hotel or transportation if you're away from home when the accident happens.
Carried contents offers coverage for personal effects or other belongings you carry on your bike if they're lost, damaged, or stolen.
Enhanced injury protection can pay as much as $250 a week for up to two years if you suffer an injury in a covered accident that prevents you from working.
See all motorcycle insurance coverages.
How much is motorcycle insurance in South Carolina?
Insurance prices are based on many factors, like your age, your location, your riding habits, the bike you have, and the coverages, limits, and other details of the policy you choose. Based on Progressive's pricing, South Carolina is one of the more expensive states for motorcycle insurance, so customers in South Carolina can expect to pay a bit more than the national average.
Learn more about how motorcycle insurance rates are calculated.
Where to find cheap motorcycle insurance in South Carolina
The best motorcycle insurance in South Carolina isn't necessarily the most expensive. A good policy balances coverage that gives you peace of mind with a price you can afford. Our customizable policies allow you to tweak coverages, limits, and deductibles until you get something that works for you. You can save even more with motorcycle insurance discounts like these:
Multi-vehicle
Pay on time
Switch and save
Safety course
Association member
See all motorcycle insurance discounts.
Pro tip:
Bundling multiple Progressive policies is a great way to save. Riders who bundle their motorcycle insurance save an average of 7%! Get a quote and see what bundling can do for you.
How to get motorcycle insurance in South Carolina
Online
We'll ask you a few simple questions, then you choose your coverages.
Quote motorcycle insurance
Call a rep
You'll speak with a licensed representative who will guide you through everything.
Call 1-866-749-7436
Through an agent
If you want local advice, we'll connect you with a licensed, independent agent near you.
Find an agent in South Carolina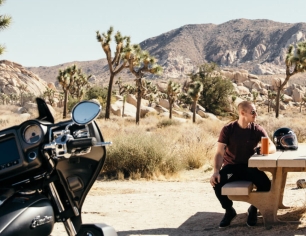 Enjoy life on two wheels with motorcycle insurance from Progressive