What are Maryland's motorcycle insurance requirements?
Maryland requires all motorcyclists to carry insurance, and the minimum coverage requirements for Maryland are more involved than many other states. At a minimum, if you want to register and operate a motorcycle in The Old Line State, you'll need to show proof of coverage, including liability and uninsured/underinsured motorist.
4 min to read
How does motorcycle insurance in Maryland work?
State law mandates two different kinds of required motorcycle insurance coverage. The first is called Bodily Injury and Property Damage liability (BI/PD). It pays out to others for any damages or injuries they incur when you cause an accident. The minimum required coverage limits for BI/PD in Maryland are:
$30,000 in bodily injury per person
$60,000 in total bodily injury per accident
$15,000 in property damage per accident
Maryland also requires all riders to carry uninsured motorist coverage for your motorcycle, which pays out when another driver causes an accident but doesn't have enough insurance to pay for the damage they cause you. The minimum required coverage limits in Maryland are the same as the basic limits for liability coverage:
$30,000 in bodily injury per person
$60,000 in total bodily injury per accident
$15,000 in property damage per accident
Maryland's required insurance coverage limits tend to be more extensive than other states, but they're still just minimums. You can choose to purchase higher limits if you want. Higher limits generally mean a higher rate and offer more protection for your financial assets if you're involved in a serious accident.
On the fence about choosing Progressive? Get a quote today and see why we're the #1 motorcycle insurer in the country, protecting nearly one-third of all insured motorcyclists nationwide. With our online tool, you can get a motorcycle insurance quote in as little as three minutes!
What's included in a Progressive motorcycle insurance policy in Maryland?
Progressive is committed to protecting your bike. Our policies with physical damage coverage cover parts at their real replacement cost – not a depreciated value – so you always get the parts you need with no surprises. Not only that, but we match the parts you already have: OEM parts for bikes with original manufacturer equipment and custom parts for custom rigs. Our goal is to get you back in the saddle as soon as possible on a bike that's in the same condition it was before the accident – or better.
Our commitment to your ride doesn't stop at the bike itself. We also protect upgrades, customizations, accessories, and extra equipment with our accessories coverage. Every policy with collision or comprehensive automatically includes $3,000 of accessories protection, but you can increase that limit as high as $30,000 to protect even the most unique motorcycle. Ride easy, knowing that you won't have to re-customize your bike if something happens.
Comprehensive and collision coverage
Usually sold together, comprehensive and collision offer protection for your ride that other coverages don't. Motorcycle comprehensive coverage protects your bike from forces beyond your control like fire, theft, natural disaster, incidents involving wildlife, and more. Collision coverage for motorcycles adds protection for your bike when you're involved in a collision, no matter who caused the accident. It even protects you when you're the only driver involved, such as if you hit a street sign or a tree.
Other Progressive motorcycle coverages available in Maryland
Expand your protection further with optional motorcycle insurance coverages including:
Medical payments can pay for medical bills that you or a passenger sustain, but it won't cover lost wages or benefits like optional PIP coverage can.
Total loss coverage is available for bikes no more than one model year old on a new policy or two years old on a renewal. It protects against depreciation by paying up to the full MSRP of a current model year of your bike, less your deductible, in the event of a total loss.
Roadside assistance covers the cost of towing your bike to the nearest mechanic.
Carried contents protects belongings or personal effects (cellphones, hunting gear, etc.) you carry on the bike with you against theft or damage in the event of a covered loss.
Enhanced injury protection protects you from long-term consequences of a crash with as much as $250 a week for two years if you're unable to work because of injuries sustained during a collision.
Learn more about Progressive motorcycle insurance coverages.
How much is motorcycle insurance in Maryland?
There's no single cost for motorcycle insurance. The price you pay depends on many personal factors like your age, location, the kind of motorcycle you ride, your claims history, the coverages and limits you choose, and more. However, on average, Maryland is a medium-cost state for Progressive insurance, with rates generally in line with our national average.
Learn more about factors that impact motorcycle insurance cost.
Where to find cheap motorcycle insurance in Maryland
Whether you're shopping for the best motorcycle insurance in Maryland or the cheapest, the most important thing is to balance coverage that gives you peace of mind with a premium that you can afford. Our customizable policies are a great place to start, but you can reduce your rate further with the many motorcycle insurance discounts we offer, including:
Responsible driver
Multi-policy
Motorcycle endorsement
Switch and save
Safety course
Learn more about our available motorcycle insurance discounts.
Pro tip:
Winters in the northeast aren't usually great to ride in. Even if you plan to keep your bike in the garage for the winter, we recommend keeping it insured year-round. Some policy features can protect your bike while it's stored, and you may have to maintain your insurance to satisfy your loan agreement. Learn more about motorcycle insurance in the winter and the best motorcycles for snow and winter commuting.
How to get motorcycle insurance in Maryland
Online
We'll ask you a few simple questions, then you choose your coverages.
Quote motorcycle insurance
Call a rep
You'll speak with a licensed representative who will guide you through everything.
Call 1-866-749-7436
Through an agent
If you want local advice, we'll connect you with a licensed, independent agent near you.
Find an agent in Virginia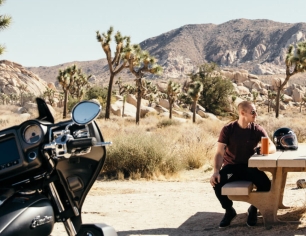 Enjoy life on two wheels with motorcycle insurance from Progressive