Motorcycle insurance in Ohio
The season may be short, but motorcycle season is still a big deal in the Buckeye State. Learn what coverages you're required to have, which you should consider, and what you can do to lower your motorcycle insurance cost.
3 min to read
What are Ohio's motorcycle insurance requirements?
Motorcycle insurance is required in the state of Ohio. While you can purchase a bike without it, you'll need to have proof of insurance before you hit the open road. The state of Ohio requires you to carry liability coverage limits of at least:
$25,000 in bodily injury per person
$50,000 in total bodily injury per accident
$25,000 in property damage per accident
Want to bundle your bike? Motorcycle customers nationwide save an average of 7% when bundling their Progressive policies.* Quote motorcycle insurance today.
What does a Progressive motorcycle insurance policy in Ohio include?
Progressive will always pay to make sure your bike is in the condition it was pre-accident when you have physical damage coverage. That means if your bike includes Original Equipment Manufacturer parts, we'll always use OEM parts to repair your bike if something happens—regardless of depreciation—no questions asked.
And if you have something a little more custom, accessories coverage automatically gives you up to $3,000, so you can replace the custom parts and accessories you've added to your bike. Need a bit more? You can bump that coverage up to $30,000 if you've added something unique to your motorcycle.
Comprehensive and collision coverage
You can also add comprehensive coverage to cover the costs associated with replacing or repairing your bike for events outside of your control, such as fire, theft, vandalism, and collisions involving wildlife. On the other hand, collision coverage protects your bike from accidents involving other drivers and objects such as stop signs or a parked car. Both are optional, but they provide additional coverage and can help replace your bike and accessories should anything happen. If you're financing your bike, your lender may require this in addition to the state minimum liability coverage.
Other motorcycle coverages available in Ohio
Medical payments coverage includes the cost of your injuries, along with any injuries sustained by a passenger on the back of your bike.
Total loss coverage covers the value of your bike in the event of a total loss under certain specific conditions.
Roadside assistance tows you to the nearest repair shop so you can get back on the road.
Carried contents and personal belongings are covered in the event of a covered loss or if someone steals them off your bike.
Enhanced injury protection pays you up to $250 a week for two years if you're injured in a covered motorcycle accident and you're unable to work.
Learn more about our available motorcycle insurance coverages.
How much is motorcycle insurance in Ohio?
There are a variety of factors that determine your motorcycle insurance rate, including your age and driving history, location, type of bike you ride, along with the limits and coverages you choose. Ohio is a medium-cost state, so you can expect the annual cost for a liability-only Progressive motorcycle policy to be in line with the national average.
Learn more about motorcycle insurance costs.
Where to find cheap motorcycle insurance in Ohio
What makes Progressive the best motorcycle insurance in Ohio? Our huge variety of motorcycle insurance discounts, for one. Here are a few reasons why nearly 1 in 3 insured motorcycle riders choose Progressive:
Multi-policy discount
Multi-vehicle discount
Three-year accident free discount
Safety course discount
Switch and save
Learn more about motorcycle insurance discounts.
Pro tip:
With physical damage coverage, Progressive will always pay to return your bike to pre-accident condition. If your bike is equipped with the original equipment and you get into an accident, Progressive will pay for OEM parts to fix it.
How to get motorcycle insurance in Ohio
Online
We'll ask you a few simple questions, then you choose your coverages.
Get a motorcycle insurance quote & buy online
Call a rep
You'll speak with a licensed representative who will guide you through everything.
Call 1-855-347-3939
Through an agent
If you want local advice, we'll connect you with a licensed, independent agent near you.
Find an agent online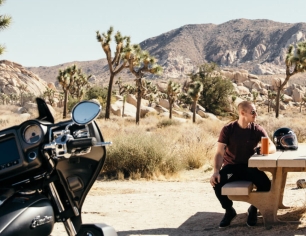 Enjoy life on two wheels with motorcycle insurance from Progressive