What are the different types of motorcycles?
Making the right choice among all the different types of motorcycles on the market means accounting for your skill level, what kind of riding you want to do, and where you'll go. There's considerable variety even among the most popular types of motorcycles without accounting for specialized bikes like off-road motorcycles. Getting familiar with the different motorcycle types before you start shopping can save time and ensure that you're satisfied with your purchase.
4 min to read
What are the different types of motorcycle categories?
The exact number of different motorcycle types varies depending on what you consider a "type of motorcycle." The biggest categories are standards, cruisers, sport bikes, touring motorcycles, and off-road or dirt bikes. Some people classify scooters as motorcycles. There are also several hybrid motorcycle categories like sport touring bikes that many consider a type of motorcycle in their own right.
Motorcycle categories are based on rider position, seat height, fairing, weight, engine size/power, suspension, and storage.
Types of motorcycles
Standards/cruisers
Standard motorcycles are a broad motorcycle type and category defined by middle-of-the-road characteristics. They have a neutral, upright rider position, a medium seat height, and usually little to no fairing. Weight and size are middle of the road, and engine power varies widely from one model to another. The range of engine power varies anywhere from the bare minimum (125cc) to around 1,000cc. Because of their popularity, you can find lots of optional equipment for a standard motorcycle.
Cruisers share much in common with standards — you might consider them a subtype of standard motorcycle. They generally have a more relaxed rider position and a lower seat height. Cruisers make some of the best commuter motorcycles because of the comfortable, more reclined position and the ability to easily touch the ground with your feet at stops. This popular style has many options and can easily be customized.
The wide variety in this category and their down-the-middle design make them a good fit for many riders. Standards are a great choice for a good beginner motorcycle, especially for riders who want to try a little bit of everything to see what they like. If you are new to riding, learn more about the best motorcycles for beginners.
Sport bikes
Sport bikes are designed for speed and resemble the motorcycles used in racing. They feature an aggressive, forward rider position, elevated seat height to enhance leaning, and extensive fairing.
Sport bikes tend to be lighter bikes with large, powerful engines to maximize their top speed. You'll want to make sure you have the right protection before you hit the road on a fast sport bike. Learn more about sport bike insurance.
Touring motorcycles
Touring motorcycles are built for long trips. They usually feature a neutral rider position, medium seat height, and extensive fairing to reduce drag and protect the rider at highway speeds.
Touring bikes are generally much larger and heavier than other types of motorcycles and carry some of the biggest engines. Their size and power are due to the other distinctive feature of most touring models: extensive storage to account for luggage on long trips. Some touring bikes also include high-tech features like heated seats or other comforts to make long journeys easier.
Off-road/dirt bikes
Dirt bikes are characterized by a very high seat placement and long-travel suspension to account for uneven terrain. They usually have small- to mid-size engines but compensate with low weight.
Dirt bikes aren't always street legal because they lack lights and turn signals. If you get a dirt bike, you may need to carry it to an off-road ride site in a toy hauler or other kind of trailer. Many states require liability insurance on a dirt bike. Learn more about dirt bike insurance.
Hybrid styles
Sport touring motorcycles blend the rider position, storage, and engine size of a touring bike with the seat height and engine size of a sport bike. They tend to be large and heavy. These bikes tend to be more comfortable over long rides than a typical sport bike.
The dual/adventure sport type of motorcycle is a compromise between a standard and a dirt bike, allowing riders to go either on- or off-road legally. They have a taller seat height and longer suspension than standards but have the lights and turn signals necessary for street riding.
Scooters
Scooters feature a very comfortable, upright riding position and a step-through design, and a low seat height that makes them ideal for riding in the city and stop-and-go traffic. Scooters are commonly considered a type of motorcycle. You can usually find engine sizes in the 50-250cc range, though some models have more powerful engines.
Some scooters can reach highway speeds but are generally intended for urban travel. They often have some built-in storage and make great commuter bikes for anyone in the city. Be aware, their lightweight and small size can make scooters a target for theft. Before getting on the road, make sure you're protected in case of theft or damage with scooter and moped insurance.
Get customized insurance to protect your motorcycle type
Current Progressive customers
You can log in or call 1-855-347-3939 to check on your coverages.
New Progressive customers
Quote motorcycle insurance online or call 1-855-347-3939 to insure your bike.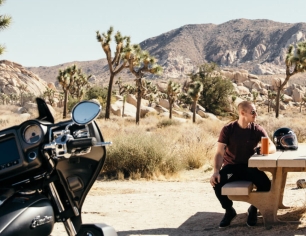 Enjoy life on two wheels with motorcycle insurance from Progressive