Got an estimate from us and wondering what it all means? Here's a line-by-line explanation. Also, keep in mind that you don't have to actually repair your car. If you'd like (and your lienholder is okay with it), we'll send a check instead.
Example of a Progressive repair estimate
Keep in mind, the details and formatting on your estimate might look a bit different.
1. Damage assessed by

The team or representative that completed your estimate. Contact your team/rep at the number listed with any estimate related questions.

2. Claim rep

The person handling your claim. This person is not always part of the actual estimate process. Contact them if you have non-estimate questions about your claim process or repairing your vehicle.

3. Claim number

A unique identifier for your claim. Reference this number when you talk to us about your claim or repairs.
1
2
3

4. Description

The year, make and model of your vehicle that is getting repairs.
4

5. Operation

This column lists the type of repair operation to each damaged part of your vehicle. Some common operations are:

Overhaul (O/H): Remove an assembly, disassemble, clean and visually inspect it, replace needed parts, reassemble and reinstall on the vehicle making any necessary adjustments.

Overlap: If adjoining parts are being replaced, there's an overlap in that both individual operations include common welded surfaces or parts attached to both panels. Therefore, a deduction must be made from the total of the individual operations to compensate for the two or more repeated operations. Similarly, if the part has already been removed, it makes access to other parts easier.

Repair: Retain the original part or assembly and repair for time specified under the Labor Units column.

Refinish: Paint a part or assembly to match the original color.

Remove/install: Remove a part or assembly, set it aside and reinstall it later.

Remove/replace: Remove a part or assembly and replace with a different one.

Add'l labor OP: Additional repair operations required for the repair of your vehicle such as applying clear coat as required by certain year, make and models.

Sublet: Repair operation that may be completed by someone other than the body shop, but on behalf of the body shop.

6. Line item description

This column lists each part of your vehicle that will be addressed during the repair.

7. Part type/part number

This column lists the type of part and/or the part number to be used in the repair. Some common part types you'll see are:

NEW and OEM or part number displayed: These are new, original equipment manufacturer parts.

A/M certified: These are new, certified non-original equipment manufacturer replacement parts.

A/M: These are new, non-original equipment manufacturer replacement parts.

Recycled: These are used OEM parts.

Remanufactured, reconditioned, or recore: These are recycled OEM parts that have been rebuilt or refurbished.

OEM surplus: These are new OEM parts that are excess inventory from the Original Equipment Manufacturer.

Recovered OE: These are parts that are removed from a new vehicle for various reasons.
5
6
7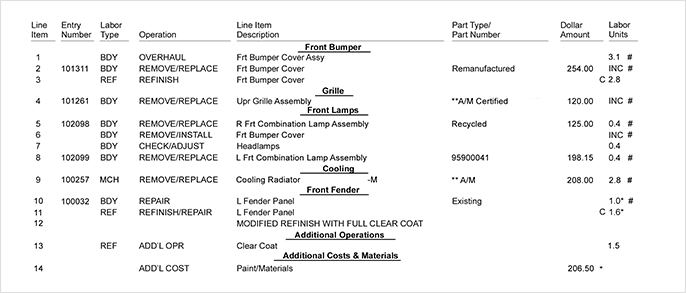 8. Estimate totals

Lists a breakdown of all labor and parts costs.

Labor subtotals: These are the total time/dollar amounts of time each repair operation calculated with the local hourly rate

Part replacement summary: These are the total dollar amounts and sales tax of parts used on your estimate

9. Customer responsibility

The cost you may be responsible for.

10. Gross total

The estimated total amount it will take to repair your vehicle to pre-loss condition. It's the portion we pay + the portion you pay.

11. Total adjustments

This is the total of any amount you may owe as shown in the customer responsibility portion of the estimate.

12. Net total

The amount we'll pay after any adjustments are subtracted and subject to final determination on coverage and liability.
8
9
10
11
12