What are the most popular classic cars of all time?
The roster of popular classic cars changes from time to time. Each year, more and more cars qualify for the age range of a classic car. Plus, tastes and trends evolve. First-generation Ford Mustangs, C2 and C3 Chevy Corvettes, second-generation Dodge Chargers, and early Porsche 911s are perennial classic car favorites. Newcomers to the top tiers of desirability include Land Rover Defender 90s, Mercedes-Benz 230 SLs, and 1980s Suzuki Samurais.
3 min to read
What are some of the most collectible classic cars?
Progressive has partnered with Hagerty in collector car insurance. Hagerty publishes a report that explores changes in the demand for and values of classic cars. They highlight vehicles they expect to become increasingly collectible. Three vehicles that topped a recent list include:
The 1963–67 Mercedes-Benz 230 SL, also known by its internal production name, Mercedes-Benz produced the W 113 from 1963-1971. But it's the first generation 230 SL, as opposed to the subsequent 250 SL and 280 SL, that's attracting collector attention.
The 1983-1997 Land Rover Defender, technically wasn't called the Defender until 1990. Before that, they were known by numbers approximating the length of their wheelbase — the Land Rover 90, Land Rover 110, and Land Rover 127.
The first-generation 1979-1985 Mazda RX-7 went through three iterations in this time, but the Wankel rotary engine was the favorite. Cars with twin-rotor engines are rare in general, but Mazda was especially committed to them for many years.
What are some of the most popular muscle cars?
American auto manufacturers have produced some amazing classic muscle cars. Some of the most sought-after muscle cars include Chevrolet Camaros and Dodge Chargers. Other popular cars include the Plymouth Superbird, Buick GSX and Chevrolet Chevelle SS.
Only produced in 1970 and with fewer than 2,000 ever built, the Plymouth Superbird was designed for NASCAR racing but sold to the public to qualify for the circuit. Plymouth designed the Superbird's unique horn sound to echo the famous Road Runner cartoon character.
The Buick GSX or Gran Sport Extra was only available from 1970-1972, with the lion's share produced in 1970. Buick designed one of its most popular muscle cars to compete with the Pontiac GTO and the Oldsmobile 442 (also trendy classic muscle cars).
The Chevrolet Chevelle SS or Super Sport package Chevelles of the late 1960s and early 1970s firmly established Chevy's muscle car credentials. In the middle of the second generation (1968-1972), Chevy introduced an LS6 version which became the most powerful muscle car on the market.
What are some of the most popular classic car colors?
To answer this question, the experts at Hagerty performed an analysis of collector cars and trucks for sale by color. They considered a range of factors, including each color as a percentage of the total collector vehicles available, the sell-through rate of advertised cars, and the cars that sold for the highest amounts.
Silver (highest sell-through, highest average sale price) and red (most listings, second place in sell-through and average sale price) seem to be the most popular classic car colors. Brown had a higher sell-through rate than red and silver. Gulf Blue and British Racing Green drove circles around their competition from an overall pricing perspective. Read more about the pros and cons of classic cars to determine if you should buy a classic car.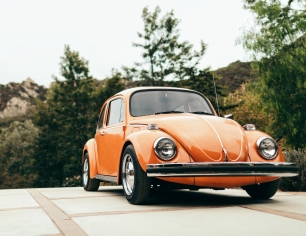 Get a free quote for classic car insurance today