Snowmobile Insurance Availability
Snowmobile Insurance Availability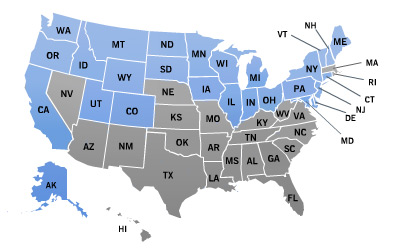 Progressive offers snowmobile insurance quotes to customers across the United States via agents/brokers, by phone or online. With a snowmobile policy, you can insure just your snowmobile — insuring a car, motorcycle, or other vehicle isn't necessary. There are, however, some limitations to what's offered.
In all states that sell Progressive snowmobile policies, up to five drivers and up to four vehicles per policy can be insured.
Progressive offers snowmobile insurance in the following states: Alaska, California, Colorado, Connecticut, Delaware, Idaho, Illinois, Indiana, Iowa, Maine, Maryland, Michigan, Minnesota, Montana, New Hampshire, New Jersey, New York, North Dakota, Ohio, Oregon, Pennsylvania, South Dakota, Utah, Vermont, Washington, Wisconsin, and Wyoming.