"Being able to bring my whole self to work at Progressive literally changed my life. Prior to Progressive, I didn't feel comfortable sharing that I was gay with anyone at work. When I came here, I initially hid who I was, but I quickly learned that it didn't have to be like this," says Kassie.
Claims Adjuster Kassie came to Progressive in 2012. She graduated college at the tail-end of an economic depression, and there were very few jobs available. Armed with her bachelor's degree—and much to her chagrin—she found herself working in the trucking industry. "It really wasn't a good work environment for me," Kassie says. "There was no inclusivity or upward mobility, and I really wanted room to grow."
How it started
With her eyes constantly open for new opportunities, Kassie eventually came across a listing for a Progressive role on Indeed. It was in Claims, and while she didn't have a specific background in the field, she went for it figuring it had to be a better situation than the one she was in. She had no way of knowing then just how life-changing that application would be for her.
Kassie began her Progressive career as a claims generalist trainee in our northern Indiana claims office. After a couple years, she became a file owner supervisor, then an auto claims adjuster supervisor, and ultimately a manager for that group. During that time, she relocated and was working in our Indianapolis claims office. It was there that things really began to take off for her.
How it's going
Prior to Progressive, Kassie was never out at work for fear of being discriminated against. But hiding who she is was never easy. "It takes so much emotional and mental energy to mask your true self at work. I was always playing the pronoun game when talking about weekends. And not being able to openly share makes it tough to get to know your coworkers."
At Progressive, though, her fears of being out at work began to fade. She explains that it was initially the people in her claims office that made her comfortable sharing her true self. They were so welcoming and inclusive. As time passed, Kassie began to understand that this culture of diversity and inclusivity comes from the top-most leadership and flows down to all employees. As Kassie puts it, "I really believe Progressive hires special people."
It was partly thanks to the inclusive work environment that when Kassie met a coworker, Amanda, in the Indianapolis claims office, her life took an incredible turn. The two fell in love, married, and are now a family of seven. Their youngest, Fitz, was born two years ago through reciprocal IVF (something Progressive's benefits were able to help her and Amanda through).
"I can be really open about my family here. It doesn't feel weird saying 'my wife' and 'our kids.' In fact, when Amanda and I went through IVF, I was able to talk about it with my team and even use it as a chance to educate them on the topic. I feel like I can totally be myself at work. I mean, I have a sleeve of tattoos and my septum pierced. It's not tolerated here…it's celebrated. Progressive understands the value of people being unique and different and sharing their perspectives."
Giving back
Given her own experiences being out and accepted at Progressive, Kassie was inspired to get even more involved in diversity and inclusion on a broader level. She became an ambassador for our LGBT+ Employee Resource Group (ERG). Ultimately, she applied to become a board member of the group so she could make an even bigger impact.
"I'm obsessed with this work," Kassie says. "It's my favorite thing ever! I love that we're trying to develop people in a way that helps them reach their career goals and, in particular, move into leadership. The people I work with in the ERG are all passionate about making sure everybody feels comfortable bringing their whole self to work and to cultivate a community. There's a lot of learning that happens, and things don't always go right the first time. But when we get it right and know that we're making a difference for thousands of employees, there's just no better feeling than that."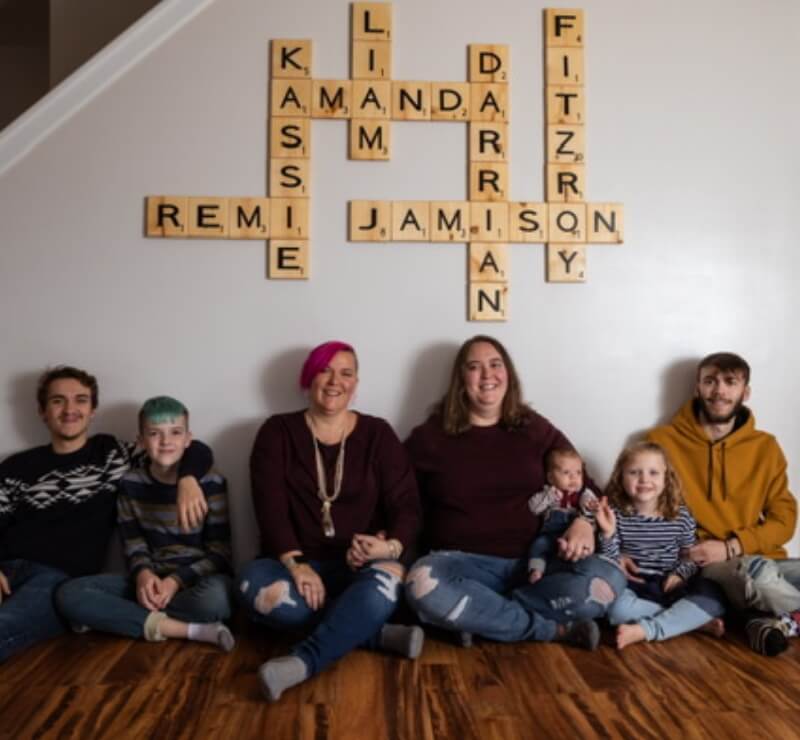 Looking ahead
Kassie says it's worth noting that now that she's so comfortable at work, it leaks into her personal life. She feels she can be herself no matter what the situation is; she's open to being who she is all the time. And she credits her confidence with the inclusion and encouragement she receives at Progressive. And she's very passionate about building that confidence in others.
"I'm very excited about an initiative the LGBT+ ERG is moving on now. It centers on the idea of 'stand up, stand out.' We want to spread the word about how many people in the LGBT+ community are in leadership positions at Progressive so that others will be encouraged to pursue similar career goals. There's a spirit of 'look at this, you can do this, too' in our messaging. It's the kind of thing that I would have loved to have had when I first started here. And I get to be a part of making it happen, which is just incredible.
"Progressive really is progressive. They walk the walk when it comes to diversity, equality, and inclusion, and my life is forever changed both personally and professionally because of my career here."