I sat nervously awaiting my meeting with Sue, Customer Relationship Management (CRM) Customer Care Specialty Region Director. As a member of Progressive's CRM team for the past two years, I often found myself encouraged by Sue's communication style. From inspiring video messages to announcements of the latest recognition efforts from Progressive, Sue was a constant in what seemed like a very uncertain time as we all made working from home our new normal. It's no wonder that in her 36-year tenure at Progressive she has managed to hold several leadership roles, balancing her faith, marriage, and motherhood in a historically male dominated insurance industry.
Sue came bouncing on my screen looking radiant in her vibrant yellow top, short, cropped hair, and megawatt smile. We are conducting our interview via video since Progressive campuses are mostly shuttered due to the pandemic. Sue spends the first few minutes of our time together thanking me for setting up time to sit down and chat with her. Like many of the leadership at Progressive, she loves a chance to sit and talk with her fellow co-workers. She has an uncanny ability to make anyone feel comfortable, so much so that I forgot I was speaking with a director of one of Progressive's largest business departments. I felt like I was talking to a friend I hadn't spoken to in a while, and we were catching up.
Progressive's CRM business group's focus is building relationships, one customized interaction at a time. "Our belief is that every personalized interaction that Progressive delivers adds value and builds trust that will make customers want to stay with us for decades," Sue stated. A graduate of Kent State, where she studied finance, Sue originally thought she'd make a career in banking due to her affection for working with numbers, but college courses opened her eyes to statistics and insurance. Sue's sister-in-law worked in the insurance industry as an underwriter and that career path seemed appealing. Her math and quantitative skills would be perfect for a career in underwriting.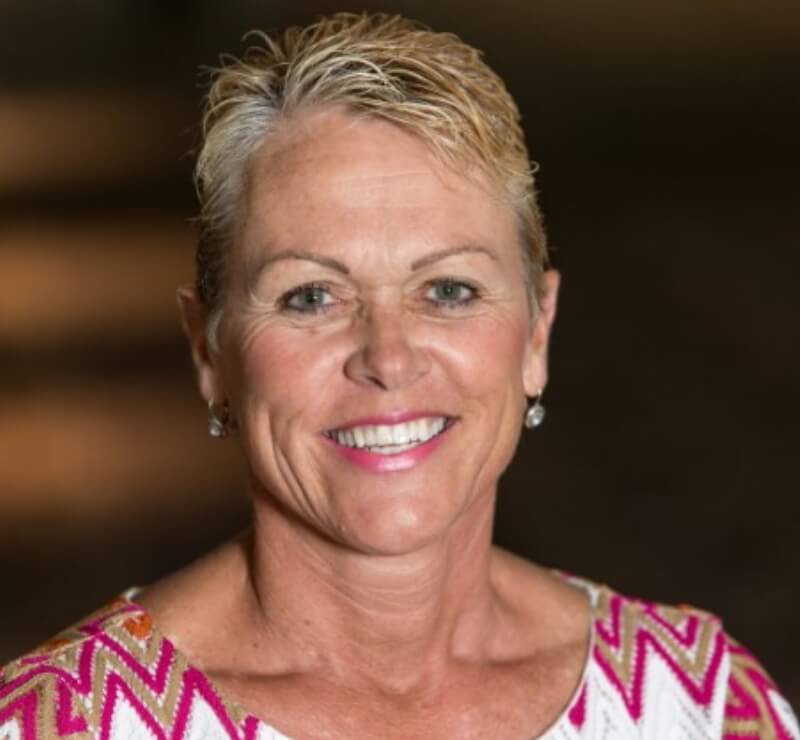 As Sue's path to working in insurance took off, she was invited to work at an insurance company to become a licensed agent, but Sue's heart wasn't in selling insurance. She wanted to crunch numbers as an underwriter. She took a job with Progressive as a management trainee in operations. Her manager trainee position led her on a journey to learn the ins and outs of the insurance business. She worked as a call center supervisor, division supervisor, division manager, and eventually a call center director. She has successfully climbed the leadership ladder throughout her tenure at Progressive. She credits her success with being able to amplify and illuminate those she leads to bring out their best to contribute to the delivery of our Progressive products and services.
Being a woman in a male dominated industry came with its challenges. As Sue took on different leadership positions within Progressive, she often felt like an outlier. She often found herself in rooms filled with white males who still operated on the understanding that women should only speak when spoken to. "No one was ill intended," she says, "they just had a way they operated." And twenty years ago, there weren't a lot of women to talk with, as Sue explains: "You had to be very cautious of what you said and who you said it to." Men made most of the decisions, as those were the operating norms. Sue often wondered if she could navigate those unstated norms and still make a difference. It was in these rooms, where women as decision makers were sparse, that Sue found her voice and the confidence to speak up for the customers she represented. In speaking up, she acknowledges the value of male mentors and advocates who helped guide her career early on in her tenure.
It's safe to assume Sue knows a thing or two about what it's like being a woman in a leadership position. Recent reports show that while men will apply for a job when they're not ready, if a woman doesn't meet all the qualifications for a position, she won't even consider applying. When Sue and I spoke about those findings, I wanted to know what barriers she thought were keeping women out of leadership roles, and her one-word answer was simple: themselves. "I think as women, we get in our own way. We create artificial boundaries on what we can achieve." She went on to explain, "Most women have so much capacity to manage work and home and keep it all together, I don't know why we create these boundaries for ourselves." Breaking barriers is something that Sue has done quite often, and she encourages other women to follow suit. "We need to have leaders who continue to expand to help serve the population at large." As Sue puts it, "The only way to continue to break barriers is having the confidence of knowing that women are capable of so much more."
When it comes to her leadership style, there are many women that Sue draws inspiration from as she leads her team. Her key inspirer, though, is her mother. Sue's mother ran a successful household and was very civic minded, volunteering at church, school, and girl scouts. "She had so many distinct roles and she made it look easy. I never saw her drop the ball." Her dad was an engineer, business leader, and local government leader, but Sue watched her mother counsel and coach others around her. Sue's mother had a voice before her time. She would speak up when she witnessed injustices. She was a voice for those who didn't have one. She guided with care, kindness, love, and constructive coaching. If you spent any time under Sue's leadership, her mother's qualities are very evident in her leadership style.
In addition to the motivating and inspiring videos she shares with the CRM team, Sue's also active in Progressive's Employee Resource Groups as an ally to her fellow co-workers. She often serves as a keynote speaker highlighting her career path at Progressive and how she's been able to accomplish so much in her time at the company, making it look easy just as her mom made things look easy. While Sue may make her successful career look easy, a lot of arduous work, determination, and risk-taking were involved, something that she encourages others to do as well. "To be a leader, you must have initiative and drive. Let your manager know your career aspirations and let them guide you. Leadership competencies haven't remained stagnant, so you can't either. To be a leader when I was coming up was very heady. If you didn't have an ivy league degree you wouldn't make it far at Progressive. Times have changed. Today, if you don't have a good heart, you won't be a good fit at Progressive. You can't achieve business objectives without the people you have the privilege of supporting."
As we talked about Sue's career, I couldn't help but ask if this was the career she had envisioned when she began all those years ago. "My 22-year-old self would not have seen me in this role today, but I can't imagine doing anything else." Sue loves amplifying and illuminating those she leads to bring good products and services to Progressive customers. She wants to make the world better, and she wants those she leads to feel welcomed, valued, and respected. Running a department with over 1,500 employees is no small task and Sue feels pressure. "The burden is heavy. It's a privilege that weighs on you to do right by those you lead. You want people to feel good about working here, but you also must understand that everyone is on a different journey. I don't make any hasty or impulsive decisions; I collaborate and consult. I make sure to leverage the talent of those that I work directly with, and trust that my partners will give the tools and confidence to those we lead and tailor those messages to people's starting points."